To celebrate the historic Coronation of King Charles III and Queen Camilla, Buckingham Town Council and local traders brought out the bunting and Union flags and decorated the town centre and shop windows in red, white, and blue.
Member of the public Mr Lionel Weston decorated outside the Old Gaol with red, white and blue knitted flowers. The W.I., Strollers, Knit and Natter, University of the Third Age, Friends of Nimble Thimble, the Lenborough Singers and friends of Mr. Weston, had been busy knitting triangle bunting which was hung on the railings outside the Old Gaol. The centre piece was a beautiful own covered in knitted flowers.
A Coronation trail was organised by Buckingham Town Council. Buckingham's Men In Sheds provided handmade round wooden discs which were then hand painted by students from The Buckingham School, showing images that are along the route the King took from Buckingham Palace to his Coronation at Westminster Abbey as well as images of things that would be used at the Coronation,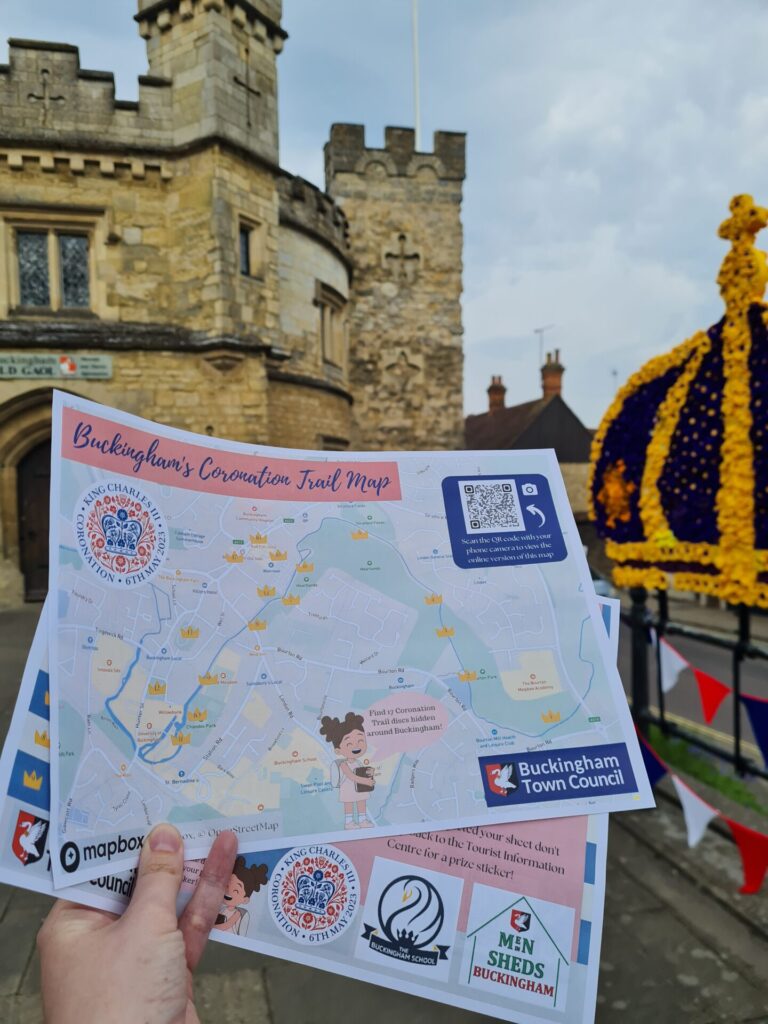 The discs were hidden in Bourton Park, The Heartlands, Chandos Park and the town centre and a map showing the trail was available online to download or a paper copy was available through the Tourist Information Centre. The trail map went live the day before the Coronation and was available over the Bank Holiday weekend for people to go out and have fun trying to find the discs. Once you had completed the trail you returned the map to the Old Gaol and received a sticker.
The weather on Coronation Day was wet and windy and hampered residents from getting out and enjoying the trail and other events in the area. Sunday saw the sun come out and residents were able to get out and enjoy the trail. If you missed the trail, the discs are now on display in the window of the Town Council Chamber opposite Waitrose, for everyone to see.
On Monday 8th May the Big Help Out was held. The was to highlight the positive impact that volunteering has on the local community. People were encouraged to spend the day volunteering. The Old Gaol Museum and Stowe House were open and members of the public were able to stop in and have a chat with a friendly volunteer and find out how they could get involved.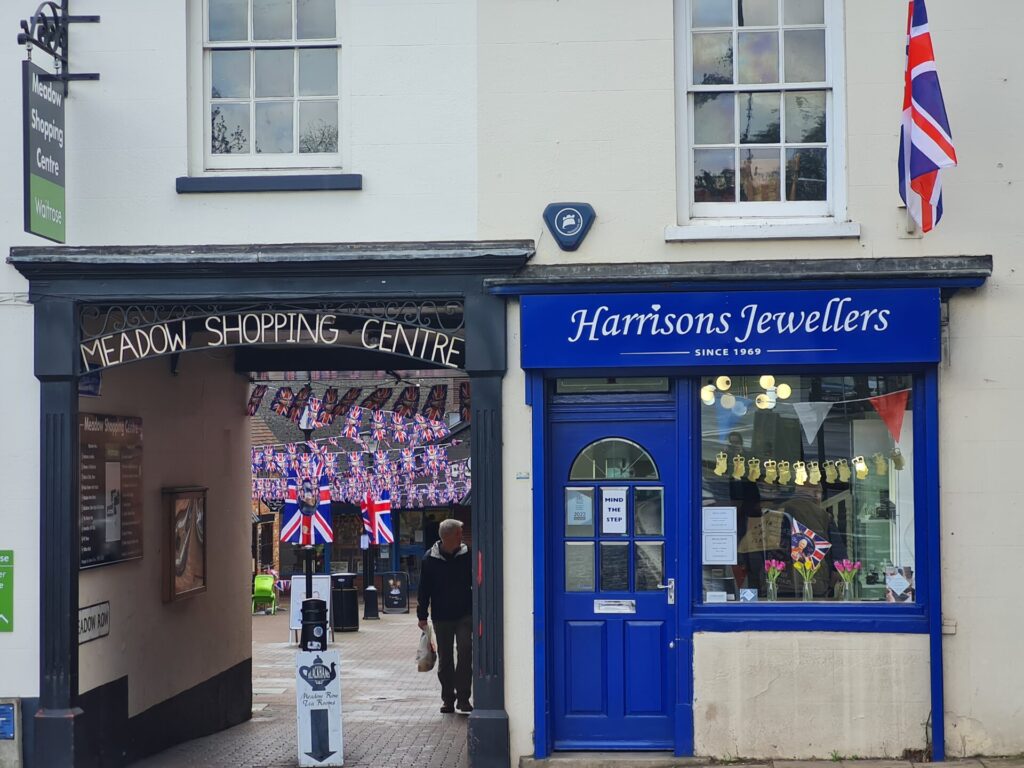 There is still time for you to get involved and volunteer with a local organisation or group, whether it be The Old Goal Museum, Stowe House a local charity shop or any other activity, we strongly recommend making contact and asking how you could help.
Cllr Robin Stuchbury said "Thank you to the town council staff for organising the flags and bunting and the Coronation trail through Buckingham while working together with organisations, within the town over the weekend and coordinating the Mayor's Civic Service at St Peter & St Paul Church. It's only through dedicated officers supporting the decisions of council members we can contribute to the community celebration of the coronation of his Majesty King, Charles III."