Bourton Park is a natural haven, featuring a river and series of ponds that's home to a diverse eco-system including otters, kingfishers and frogs, as well as wildflower and meadow areas. It's the perfect place for a walk and a chance to reconnect with nature.
There's plenty of active opportunities in the park, with trim trail, multi-use games area, table tennis, and paths suitable for running and cycling.
Bourton Park hosts the local parkrun every week, starting from the Buckingham Skate Park in connected Heartlands park. There's also three designated off-lead dog areas making it a great place for pets to enjoy.
It's also the ideal space for Town Council events, with the annual Bonfire and Fireworks night drawing in thousands of spectators every year, while the Dog Show is another annual favourite.
Nature Haven
Bourton Park has been carefully curated as a nature friend with two long sweeps of wildflower meadow that attract and support vital insect life, including bees. The River Great Ouse flanks the park on one side, while a pond system runs along the other. Plentiful trees and riverside spaces create vital habitats for animals and wild flowers. Otters, mink, kingfishers and more have all been seen in the park.
Senior Play Area
Bourton senior play area suits older children, with an open space under the trees and alongside the river, with zip line, climbing frame, balance trail and netted basket swing. Seating areas and benches make this the perfect place to stop and play for longer periods.
Junior Play Area
This enclosed play area is perfect for younger children, with toddler swings, springers and a low level climbing frame with nets and slides – fantastic for smaller children gaining confidence to stretch and have fun. Benches and trees make this a perfect shady spot to linger and let kids play.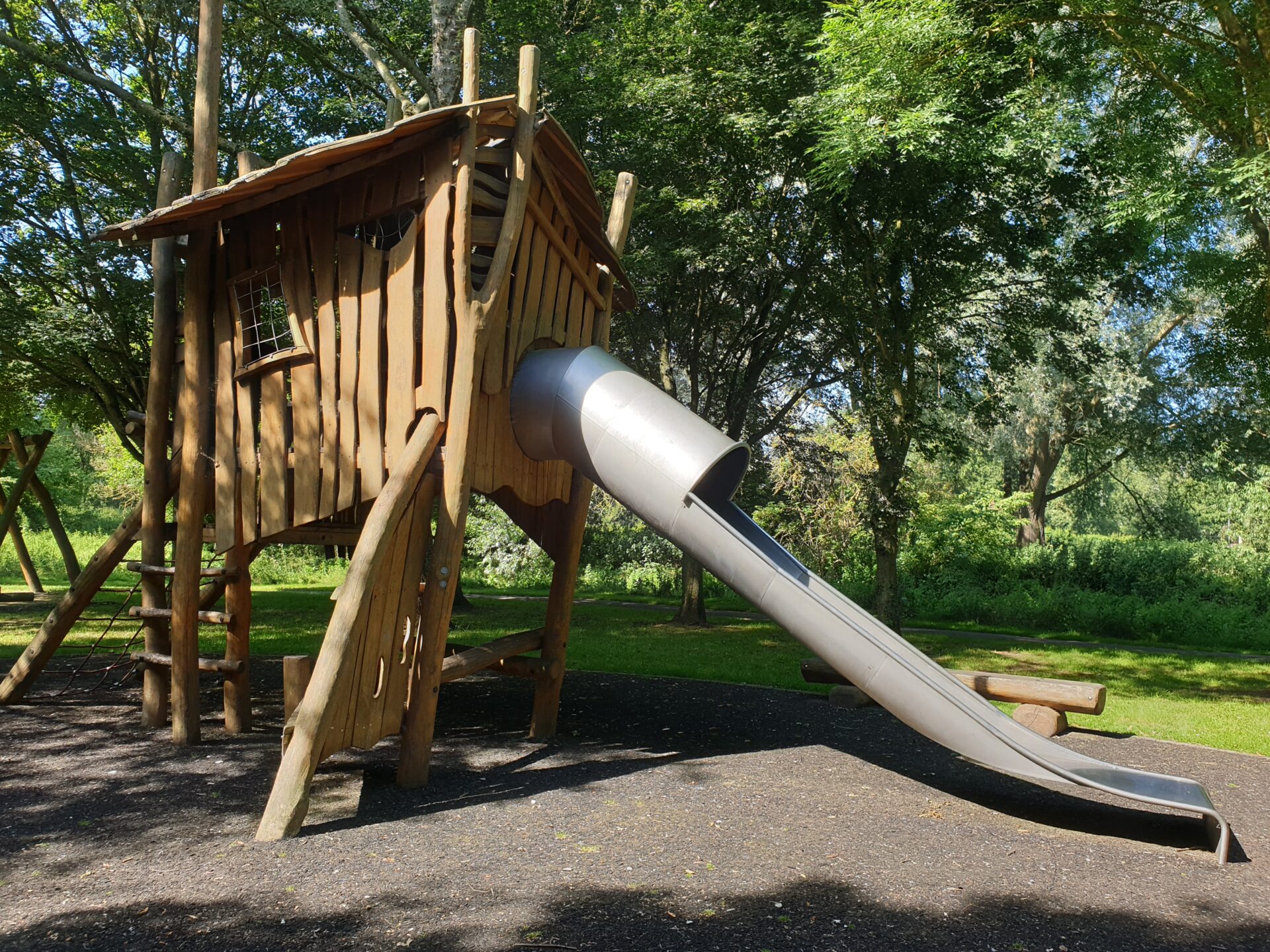 Dogs in Bourton Park
Bourton Park is a favourite with dog lovers, with fenced paddocks and shallow wading spots to the river allowing dogs plenty of space to run and play. We do ask that dogs are kept under control and that waste is picked up and disposed of considerately. Clear signage is displayed throughout Bourton park regarding dogs on-leads areas and dog-free areas.
Free Events
The annual Dog Show fills Bourton Park Meadow with wagging tails. A great chance for dog owners to meet like-minded dog fans as you browse stalls from local dog charities and suppliers. There's the opportunity to take part in a variety of events, including child handler classes, agility and fun categories.
Bonfire and Fireworks is one of the Town Council's most popular events. Bourton Park Meadow hosts a giant bonfire, historic reenactment, hot food and drinks all finished with an impressive fireworks display.
A ceremony marking Holocaust Memorial Day takes place on 27 January every year around Bourton Park's memorial stone. The service is led by the Town Mayor and is open to anyone who wishes to attend.
As the Autumn approaches the Park's section of the River Great Ouse gets a clean at River Rinse, two sessions where volunteers from local group Stowe Sub Aqua Group, the Town Council and locals gather together clear up litter that has gathered in the river or riverbank and clear it away to help keep the river clean and healthy.
If you're interested in volunteer opportunities around our Parks, then please see our Parks page for more information.
Sports and Leisure
Trim Trail
Bourton Park Trim Trail stretches across the entire park and is the ideal way to introduce variety on your run or walk. Green signs indicate how each piece of equipment is intended to be used and includes pull up, press up, hurdles, sit up, monkey bars and balancing equipment.
Multi Use Games Area and Table Tennis
The Multi-Use Games Area is a fenced hard-standing area suitable for basketball, football or any other game you'd like to try! Free to use, just turn up and play. The cement constructed table-tennis can be used by anyone, just bring bats and balls. Please note that the table is currently awaiting repair, but can still be safely used.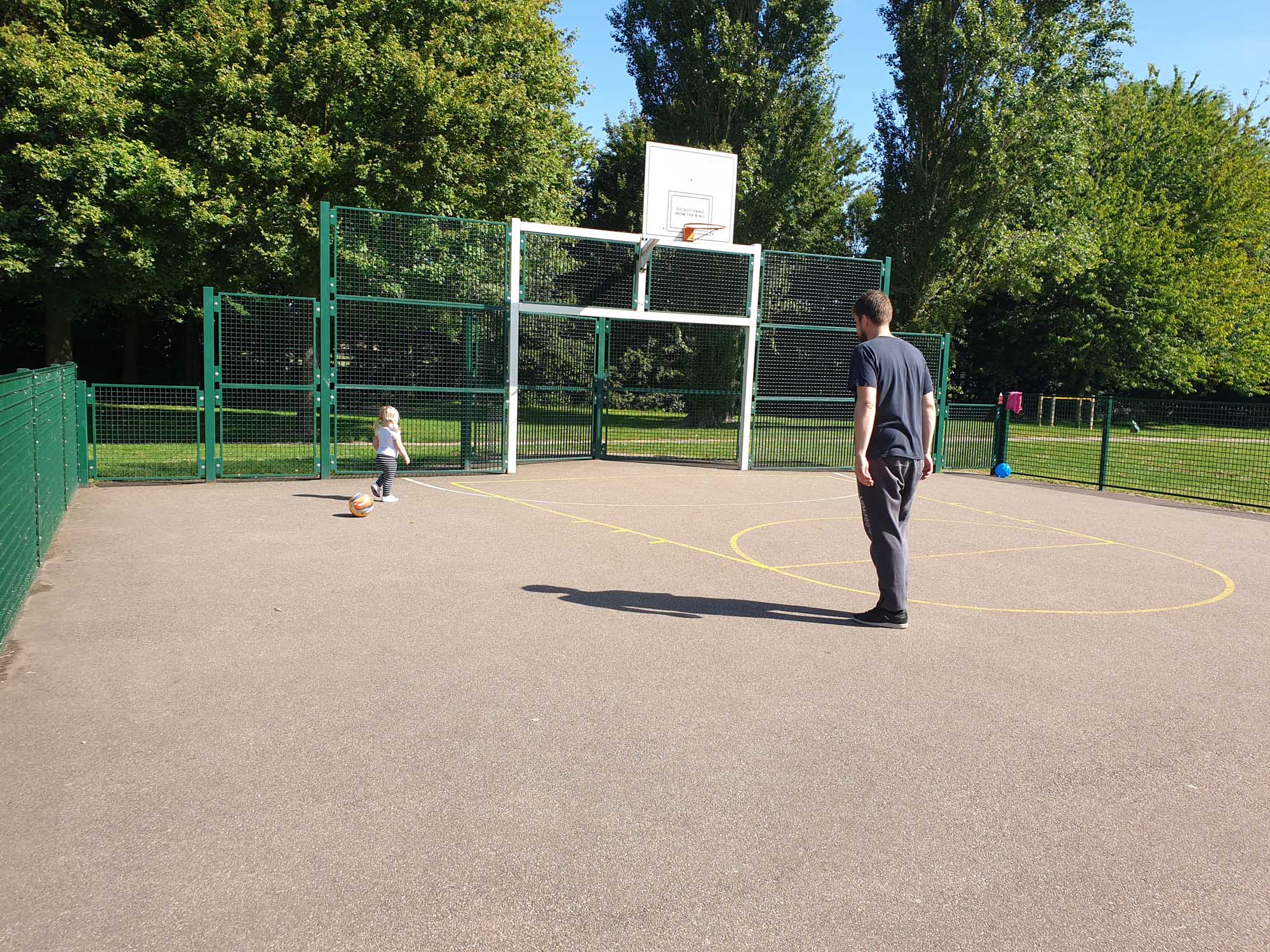 Facilities and Accessibility
Public Toilets
The nearest public toilets to Bourton Park are in Cornwalls Meadow carpark, including a Changing Places accessible facility.
Car Parking
Bourton Park carpark is accessed via Bourton Road.
Accessibility
Footpaths to Bourton Park from the Town Centre and the carpark are hard and suitable for wheelchairs.
Refreshments
Picnic tables and benches along the river, green spaces and near the play park make this a perfect spot to enjoy your lunch break or a leisurely afternoon.
Dogs
Well behaved dogs are welcome in all of our Parks; we do ask that dogs are kept under control and that waste is picked up and disposed of considerately. Clear signage is displayed throughout all the Parks regarding dogs on-lead areas and dog-free areas.
Walks and Maps
Bourton Park
Buckingham MK18 7AB
Bourton Park is well connected to local walks including the Circular Walk, Canal Walk, Ouse Valley Way Walk, cycling paths and more.