Buckingham Town Council declared a Climate Emergency in July 2019. Since then the Council has been busy investigating actions the Town Council can take, as well as looking for ways to work with partners to make a difference.
Climate Emergency Objectives:
Energy – to reduce energy demand, improve energy efficiency and convert to renewable, low or zero carbon technologies for energy and heat.
Transport – to promote walking, cycling and public transport. Accelerating the move to Council owned electric vehicles.
Food & Land – to promote sustainable land management, including tree planting to help absorb carbon & water.
Economy, Housing & Waste – to support the local economy to ensure existing and new homes are climate resilient whilst reducing, re using and recycling materials and ongoing resources e.g. water
Community Engagement – to engage local people in accelerating their own responses and building resilience to ongoing climate impact
The Council has already:
Replaced two vehicles with fully electric vans. This has proved a big success; with vehicles only moving within the town, this has reduced the use of diesel considerably, and also means we have a quiet vehicle to use in the cemetery when needed.
Updating the Town Council's lights in Chandos Park with LED lights, reducing the power used
Plans are in place to install solar panels on the Buckingham Community Centre and Lace Hill Sports and Community Centre
Ensuring Town Council events are free of single-use plastics
A water bottle refill station has been installed in Chandos Park, thanks to funds given by Buckinghamshire County Council's Local Area Forum to the Town Council. This has proven really popular with park visitors and we hope to secure funding for more water fountains across the town.
Each of the Council's four committees has reviewed the Climate Emergency Action Plan and added actions within their remits. You can download a copy of the Town Council's Action Plan here. The document will be regularly reviewed at Council Committees and updated with any action taken.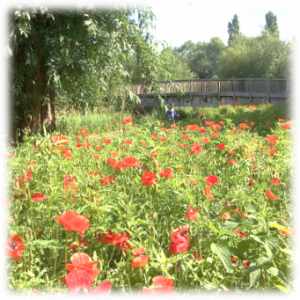 What Can I Do?
The following organisations and areas include useful links to help with your own climate change action:
The Carbon Trust provides guidance, webinars, and reports on how businesses can be corporately sustainable, future energy systems, and how to reduce your carbon footprint.
Cycling: Cycling UK has gathered a varied list of community cycling groups and clubs around Bucks, with maps, routes, and resources, encouraging cycling around the county.
Electric Vehicles: Zap Map has created a useful map showing all of the charging points in and the surrounding areas of Buckingham
Food Waste: The Love Food Hate Waste Website is packed with lots of useful advice to help individuals reduce food waste. With tips, recipes, and activities for everyone to get involved with.
Friends of the Earth: The Friends of the Earth organisation is focused on making the environment a better place. With the communities help to prevent mass extinction on millions of species across the globe and the UK
Keep It Clear: In association with Anglian Water, the Keep It Clear campaign provides information on what is and is not suitable to go down our drains. With regular updates and support, find out how you can keep our waters clear.
Recycling: Recycling for Buckinghamshire offers a variety of advice on how to recycle properly, recycle centre locations, preventing and reporting fly-tipping, and learning resources for schools and communities to get involved.
Rolling Oats and Planet Refill – local retailers that will help you to reduce plastic and packaging waste by purchasing responsibly source (local) organic products.
Woodland Trust: The Woodland Trust has launched a tree planting scheme to encourage local schools and communities to plant trees in their areas, the Trust supplying free trees in November and March for schools and communities.
WWF Carbon Footprint Calculator – A carbon footprint calculator for personal use.
The World Wildlife Federation (WWF) has constructed a questionnaire to help you estimate your carbon footprint, offering advice, and a goal scheme for you to achieve, and reducing your carbon footprint.
Future Learn has some free online learning courses on 'Climate Change: Solutions created by experts from leading universities and organisations'. This is a great opportunity to explore solutions to this global challenge, including mitigation, adaptation and geo-engineering, which can help avoid the most dangerous climate changes.
Follow, share and comment on our Facebook and Instagram pages @buckingham-tc. We would love to hear your views on tackling climate change Buckingham so please get in contact:
Address
Buckingham Town Council, Verney Close, Buckingham MK18 1JP
Climate Emergency News