The Railway Walk is a slice of wildlife heaven that runs along the path of the old Buckingham railway line. A series of ponds create nature friendly wet spaces, alongside glades, an orchard and raised bridges with views across Buckingham.
Birds, butterflies, dragonflies, amphibians and wild flowers can all be seen by observant visitors – it's well worth wandering this way as part of your daily journey to school or work, or to take time out and appreciate the wild beauty.
The length of the walk starting at the A421 is maintained by Buckingham Town Council, while the Tingewick Road section (marked the Scenic Walk) is managed by Buckinghamshire Council. Locally the entire stretch of this passage is known as the Railway Walk and is well supported by activities to maintain and protect the space by the Buckingham Railway Walk Conservation Group.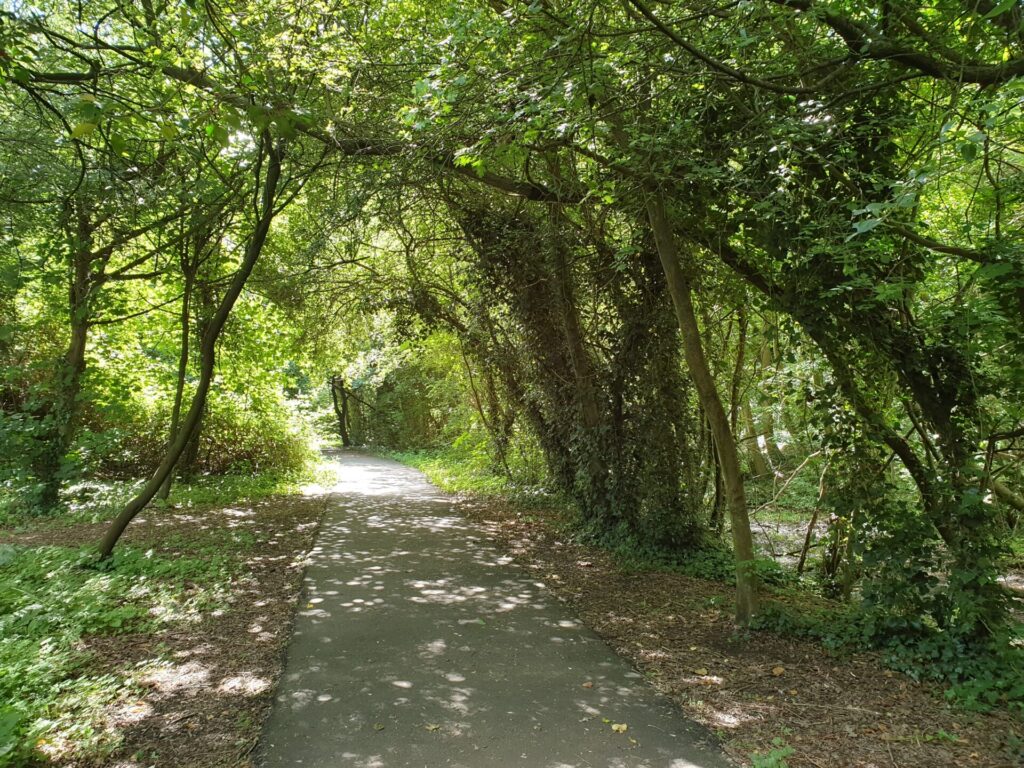 Buckingham Railway Walk Conservation Group
If you'd like to be involved with maintaining and protecting the railway walk space as a volunteer, please email the Council Office.
Facilities and Accessibility
Public Toilets
The nearest public toilets are at Chandos Park, including disabled facilities accessed by Radar key.
Car Parking
We don't recommend driving to the Railway Walk, as it's very accessible by foot. The closest on street parking is under the Hunter Street Bridge.
Accessibility
The path along the Chandos Road to A421 section of the Railway is concrete. The other sections are mixtures of hardstanding and concrete.
Refreshments
Several benches and bins are placed along the length of the Railway Walk. A variety of cafes and restaurants are a short walk away
Dogs
Well behaved dogs are welcome in all of our Parks; we do ask that dogs are kept under control & that waste is picked up and disposed of considerately. Clear signage is displayed throughout all the Parks regarding dogs on-lead areas and dog-free areas.
Walks and Maps
Extend your walk by following the Circular Walk towards Bourton Park.