Buckingham Town Council has a small team of green spaces workers who are responsible for the maintenance of Bourton Park and Chandos Park, town council buildings including Lace Hill Sports and Community Centre, Shopmobility, Cornwalls Meadow toilets, the Tourist Information Centre and certain street furniture.
The Town Council, Buckinghamshire Council and other agencies share responsibility for the maintenance of other facilities in the town, including grass cutting, trees and play equipment. Who is responsible depends on the exact location of the object or facility.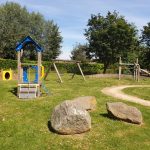 For more information about common enquiries click on the drop down tabs below.
Maintenance services