Buckingham Town Council is responsible for maintaining the beautiful and historic Brackley Road cemetery, which is over 150 years old. As part of its commitment to providing an attractive and safe cemetery for its visitors, the Town Council is required by law to assess the safety of memorials in the cemetery.
The Town Council's programme of memorial safety testing will be undertaken in an appropriate and sensitive manner. After an initial assessment, the first area to be assessed will be the older section of the cemetery, which could represent the highest risk to visitors. The first session of inspections will take place on Monday 20th February 2023. It will be an ongoing process, undertaken a section at a time with all of the memorials being tested over a 5 year period.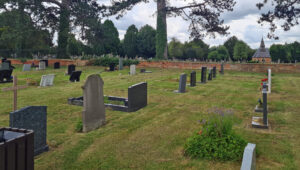 The Town Council has a statutory duty to comply with Health and Safety legislation, including ensuring that the cemetery is safe. It is however, the grave deed holder who is ultimately responsible for the maintenance of individual memorials. While the Town Council will do its utmost to contact any deed holder whose memorial is found to be unsafe, due to the age of many of the memorials this may prove difficult, if not impossible. Where it is not possible to identify the deed holder or any living relative, the Town Council will endeavour to repair the memorial in a professional and suitable manner.
The Town Council would like to stress that if any memorial is found to be unsafe, they will only be laid flat if there is no alternative way of making them safe until they can be repaired.
We therefore take this opportunity to ask deed holders of burial plots in the cemetery to update the Town Council with their current address if it has changed since the original burial deed was issued.
The Town Council would be happy to answer any questions about the memorial testing at the cemetery. Please contact:
Notes: Lee Phillips  –  01280 816801 – Greenspaces@buckingham-tc.gov.uk
Town Council Offices,
The Buckingham Centre,
Verney Close,
Buckingham
MK18 1JP