As Buckingham prepares to celebrate the Coronation of King Charles III on Saturday 6th May Buckingham Town Council and an army of volunteers have decorated the town with red, white and blue, bunting, flags and knitted bunting. 
From Friday 5th May until Tuesday 9th May follow the Coronation Trail around Buckingham. Download the map to find handmade wooden discs showing monuments and buildings that can be found on the route in London that King Charles III will take on his way from Buckingham Palace to Westminster Abbey. The trail map goes live on the Town Council website on Friday 5th and paper copies of the map will be available in the Tourist Information Centre. The hidden discs have been provided by Men In Sheds and decorated by the Buckingham School.
Cllr Robin Stuchbury, Chairman of the Town Centre & Events Committee had the following to say: "as everyone will be celebrating the coronation in their own way the town council is offering a free community event, though the coronation trail for everyone to take part in together."
Member of the public Lionel Weston will be decorating outside the Old Gaol with red, white and blue knitted flowers. The W.I., Strollers, Knit and Natter, University of the Third Age, Friends of Nimble Thimble, the Lenborough Singers and friends of Mr. Weston, have been busy knitting triangle bunting which will be hung on the railings outside the Old Gaol. The centre piece will be a crown covered in knitted flowers.
On Sunday 7th May Cllr Margaret Gateley, Mayor of Buckingham, will be holding a Civic Service at St Peter & St Paul Church.  Members of the public can obtain a free ticket either through the Church or from the Tourist Information Centre to attend the event.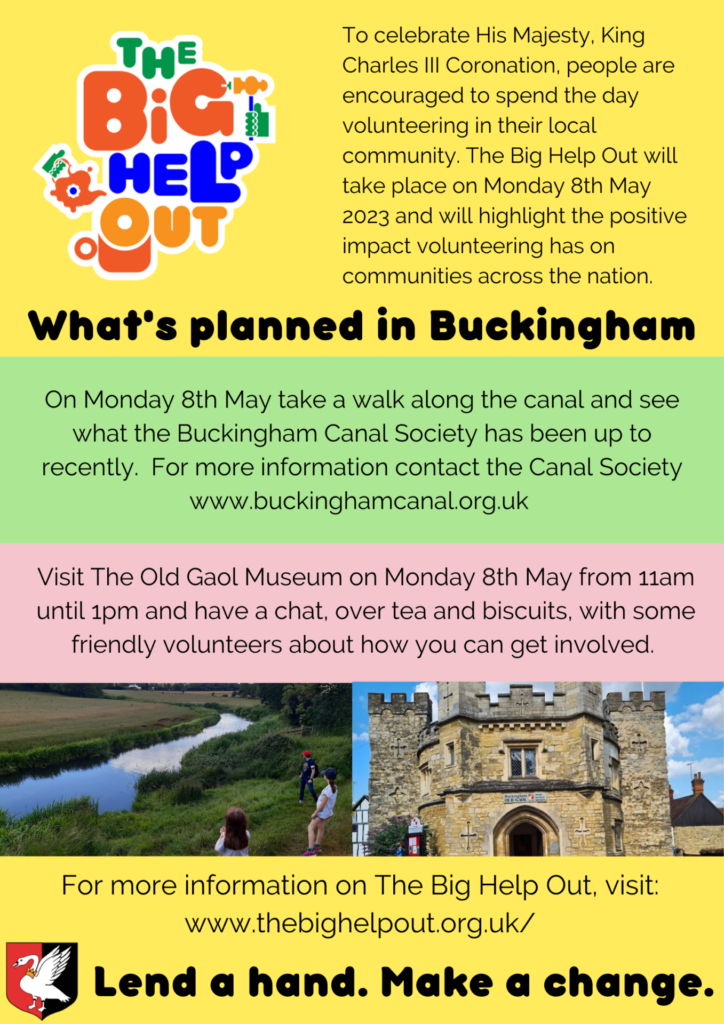 Monday 8th May has been named as 'The Big Help Out' and members of the public and volunteer groups have been encouraged to volunteer their time. Looking for an activity to try in Buckingham? Take a walk along the Buckingham Canal and see what the Canal Society have been up to recently.
You can also drop into the Old Gaol Museum for tea and biscuits between 11am and 1pm for and have a chat and cup of tea with the friendly volunteers and see how you can get involved.
Cllr Robin Stuchbury, Chairman of the Town Centre & Events Committee said: "His Majesty the King wishes people celebrate his coronation by volunteering. Buckingham has lots of wonderful volunteer groups that operate all through the year, this Big Help Out we want to encourage anyone who hasn't tried volunteering before to see what a fantastic way this is to enrich and celebrate the community."