Cash Access UK, the organisation set up to protect nationwide access to cash, has partnered with Buckinghamshire Council through its Community Board, with the support of Buckingham Town Council and community representatives to open a temporary Banking Hub in Buckingham. The temporary Banking Hub provides local people with access to banking services, while plans for the permanent Hub continue to make headway. The temporary Banking Hub is located at Buckingham Library.
The temporary Hub is open Tuesday to Friday, 9.30am to 4.30pm, and will remain available until the new permanent Banking Hub opens. The temporary Banking Hub offers a counter service operated by the Post Office, where customers of all major banks and building societies can carry out regular cash transactions. It also offers a Community Banker service where customers can talk to their own banking provider about more complicated issues.
Community Bankers will work on rotation, with a different bank or building society available on each day of the week:
Tuesday – NatWest
Wednesday – Nationwide
Thursday – Lloyds Banking Group
Friday – Barclays (coming soon)
Cash Access UK is committed to delivering a permanent Banking Hub in Buckingham and, in a significant step forward, the location for the new permanent Hub has now been confirmed. This will be located at 19 Market Square, Buckingham. The team at Cash Access UK are now working hard to get the new premises ready.
The Banking Hub team looks forward to welcoming residents to the temporary Banking Hub at Buckingham Library and supporting them with their everyday banking needs. They will also be able to keep residents up to date with progress on the permanent Banking Hub.
The Buckingham & Villages Community Board, Buckinghamshire Council, Buckingham Town Council, and Cash Access UK have worked together throughout the process to ensure that Buckingham residents and business voices were heard and to support the provision of access to banking in a suitable location as quickly as possible.
Cllr. Anja Schaefer, Mayor of Buckingham said: "I am delighted that Buckingham has been chosen for a temporary banking hub. Access to in-person banking facilities is vital for many residents of Buckingham. Buckingham had one of the largest responses to the survey about banking needs, thanks to the enthusiastic engagement from Buckingham residents, hard work by Council staff, and the high level of support from Buckingham councillors. This high level of engagement from the town will have played no small part in bringing the temporary banking hub to town."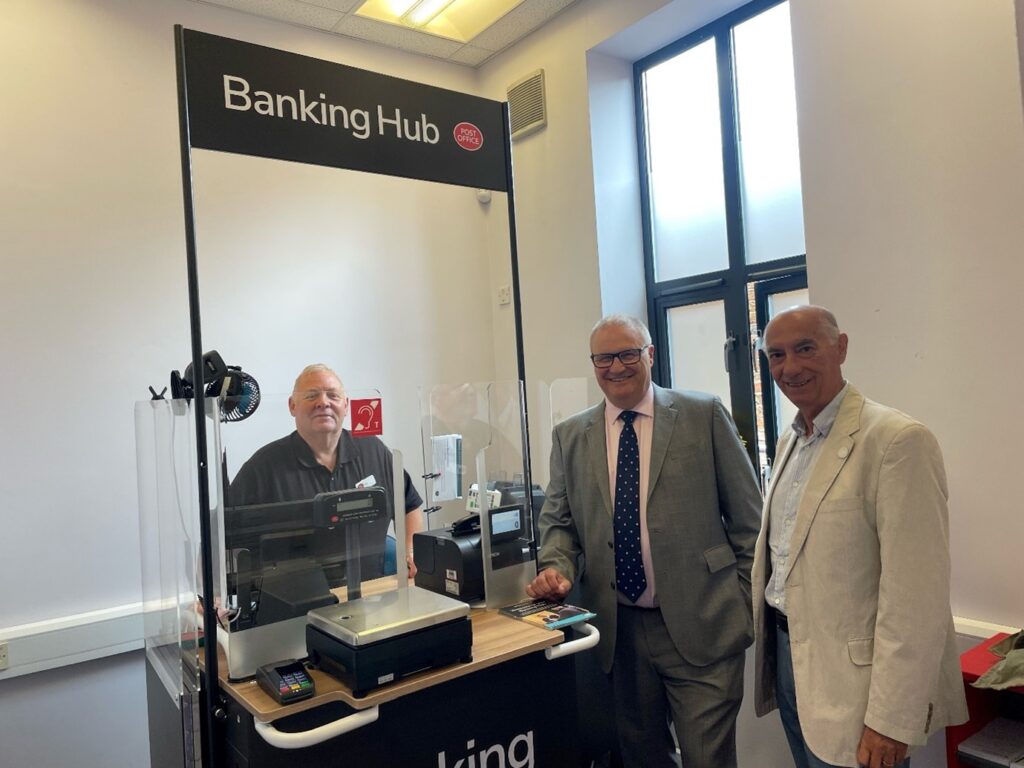 Buckinghamshire Council's Cabinet Member for Culture and Leisure, Councillor Clive Harriss said: "I am really happy to see our library playing such an important part in ensuring that Buckingham residents have local access to banking services. Buckinghamshire Council is proud to have played such a key role in making this happen and the partnership with CashAccessUK is a great example of the importance of libraries as safe and accessible community spaces. Libraries sit at the heart of their communities and we are always looking for opportunities to work with partners to enhance the services available at the library'
Councillor Howard Mordue, Buckingham and Villages Community Board, Chairman said: "The Community Board has been pleased to co-ordinate with our partners to bring this fantastic new facility to the town. We hope this will make life easier for local people who want to withdraw cash easily and I'm delighted it is paving the way for a permanent facility in Buckingham. It's a great example of how our community boards make a real difference on the ground by co-ordinating projects like this on behalf of local residents."
Ross Borkett, Head of Banking at Post Office said: "We're delighted to be providing every day banking services to residents and businesses in Buckingham with our counter staffed by an experienced Postmaster and their team. We know that where cash is withdrawn locally, it tends to be spent locally, supporting the local community. It's great that a temporary Banking Hub is now open and we look forward to serving customers from the permanent location when it opens."
Gareth Oakley, CEO at Cash Access UK: "We're committed to protecting nationwide access to cash, therefore I am pleased to announce that a temporary Banking Hub in Buckingham is now open. The temporary Banking Hub will ensure residents' access to cash needs are supported, while work progresses on the permanent location. This is an important step on the journey to a permanent solution and we look forward to updating the community on our progress when we are able."
If you would like to know more about the Banking Hubs please contact: adam.f.taylor@h-advisors.global