This week saw the official reopening of Bourton Park's Junior play area by Town Mayor, Cllr. Anja Schaefer. The nature themed play area is a bespoke design by HAGS UK and reflects the park's wildlife and variety of habitats including the River Great Ouse and local woodlands.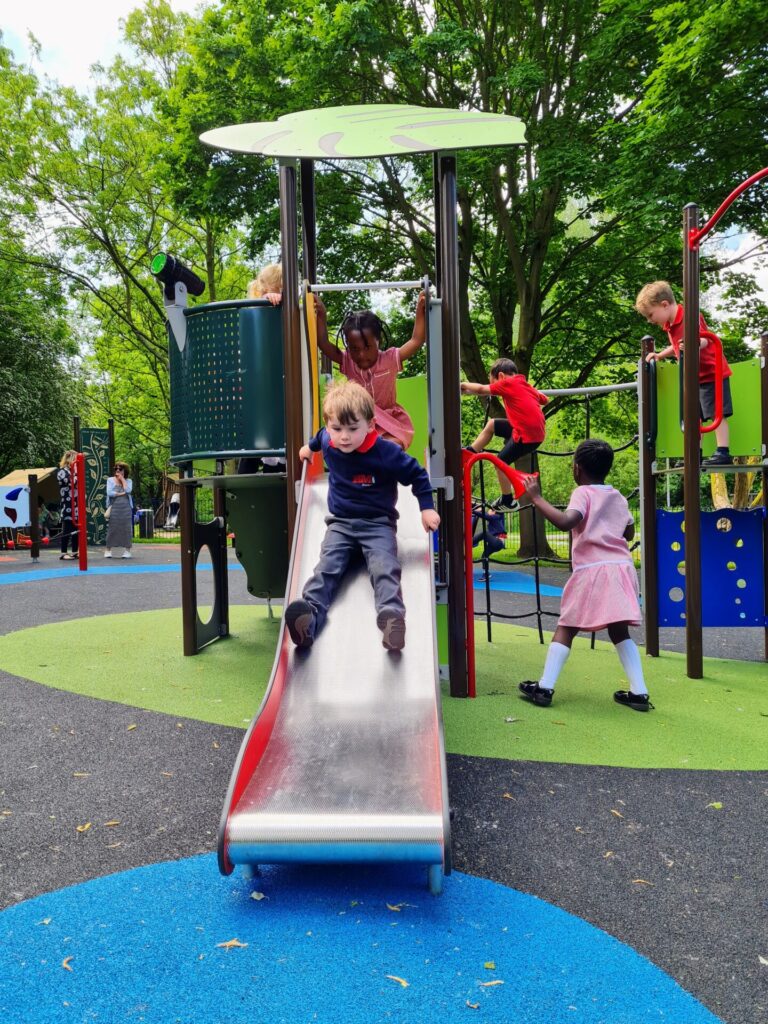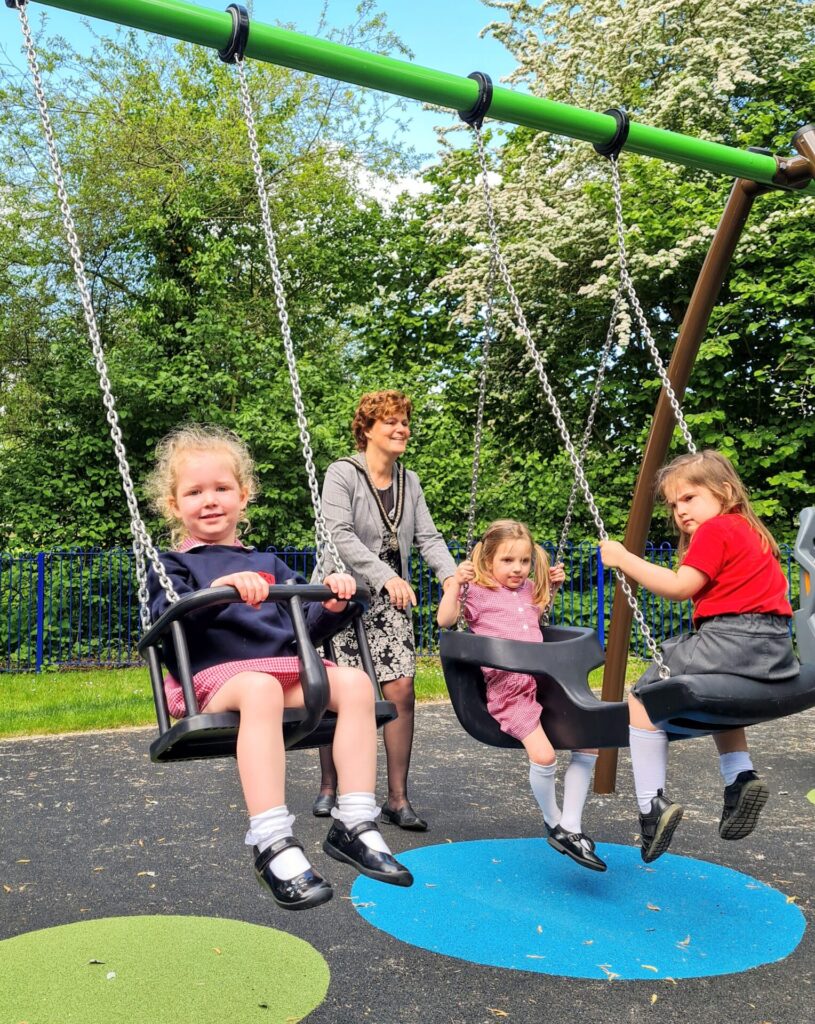 The renovation of Bourton Park's popular play area was funded from Section 106 contributions, s106 is a financial contribution from housing developers towards the costs of providing community and social infrastructure in Buckingham.
The nature themed play area is aimed specifically at 2–7-year-olds and is designed to allow much better access to and around the site and to be as inclusive as possible – aiming to challenge, excite and inspire as well as encourage children of all abilities to play together. The design fits seamlessly within the environment of Bourton Park, with natural shapes and bright colours of the play structures that have been specifically chosen to symbolise Buckingham's local flora and fauna. For example, otter and kingfisher aluminium rubbing posts, oak, poplar and beech leaf stones and Bourton Park's bespoke 'wildlife ticket office' play hatch.
The site design offers a number of exiting and interesting features including:
Huge multi-person boat springer, set within a colourful blue wet pour stream system. This is reflective of the park's riverbanks and references the old path of the Buckingham Canal which ran through the site.
Large swing set including a Tango Swing Seat that allows parents or older children to swing face to face along with a toddler and it joins the more traditional flat and cradle seats.
Low level 'pond tree house' themed multiplay units, made from recycled materials and designed specifically for younger children.
Multisensory acoustic play equipment including a Rain wheel, Bongo tree and drum panels.
Wildlife Discovery Hut and Otter's Driftwood Den provide a break away space for the children to interact, role play or have some space away from the noisy activities.
Toadstool sculptures, aluminium rubbing posts and leaf steppingstones depicting tree and animal species commonly found in Bourton Park.
More seating, picnic tables and grassy areas for blankets.
The Town Council selected HAGs UK to bring this project to life, which is a reflection of the community and Town Council's vision to provide a play spaces where inclusivity and imagination are key.
The design prioritises connectivity within the play space is an essential feature, enabling people with impaired mobility or those in wheelchairs and with pushchairs to manoeuvre within the play space. The Council recognises that secluded areas of calm, within the sight of parents/carers, are important for children that may need time to withdraw and recalibrate. Therefore, quiet areas/huts, playhouse or equipment that allows children to observe the play before engaging, was also an important aspect of this project.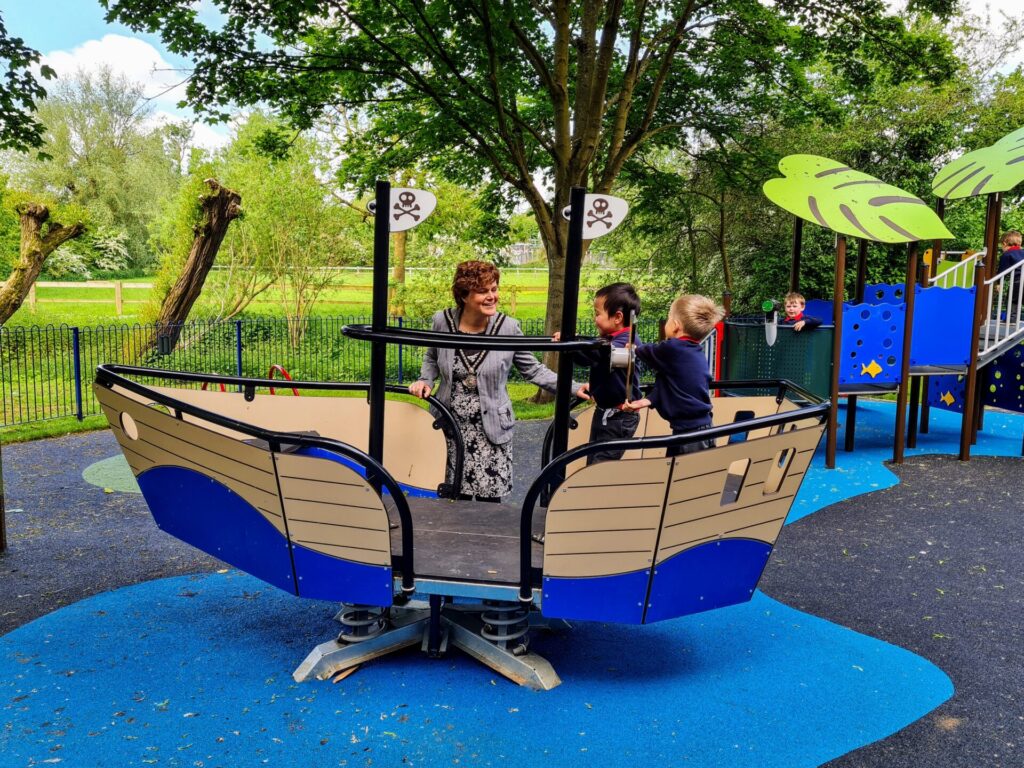 Town Mayor, Cllr. Anya Schaefer said"I am delighted that Buckingham Town Council has been able to access funding to refurbish the Bourton Park junior play area. The new design looks very exciting and I hope it will provide a lot of fun and excitement for children in Buckingham and surrounding areas."
Notes:
For enquiries, please contact Claire Molyneux at Buckingham Town Council on 01280 816426, communications@buckingham-tc.gov.uk