Buxplore: Buckingham Community Heritage App
Walk, play, explore and discover Buckingham, with Buxplore. The NEW discover Buckingham app!
Choose your route and take a tour around the streets and parks of Buckingham, completing activities, questions and mysteries.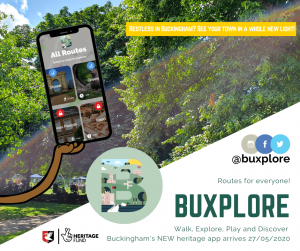 Launched in May 2020, take a tour of Buckingham:
Heritage for Kids – a short walk through the oldest part of Buckingham, looking for hidden features. Answer questions correctly to unlock the next location!
History – a longer walk for older children or adults, with activities and questions to test your knowledge of Buckingham.
Green Spaces – highlighting hidden green spots around Buckingham that you might know about, with nature themed activities. This long route can easily be split into multiple visits.
Murder Mystery – looking for adventure? Start at the Old Police House and discover clues around Buckingham to crack the case and solve a murder!
Stowe – walk from Buckingham to Stowe House and around the parkland trail, discovering how the Temple-Grenville family linked the two together.
Industrial – a glimpse into Buckingham's hidden industrial past, from old factories to canal boats.
Follow our social media via @Buxplore on Facebook, Instagram and Twitter to hear Buxplore news first, from sneak peaks to new routes!
Thank you!
In taking part in our project you'll join volunteers from the Library, Buckingham School, Buckingham Society, Old Gaol, local historians, the Centre for Buckinghamshire Studies and more who have been working extremely hard on the creation of this project since 2019.
Buckingham Town Council thanks lottery players, who helped fund this project via the National Lottery Heritage Fund.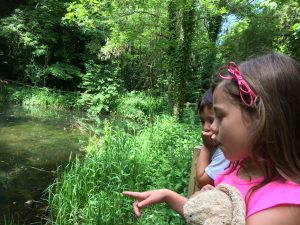 Technical Information
Buxplore was designed and built by local companies.